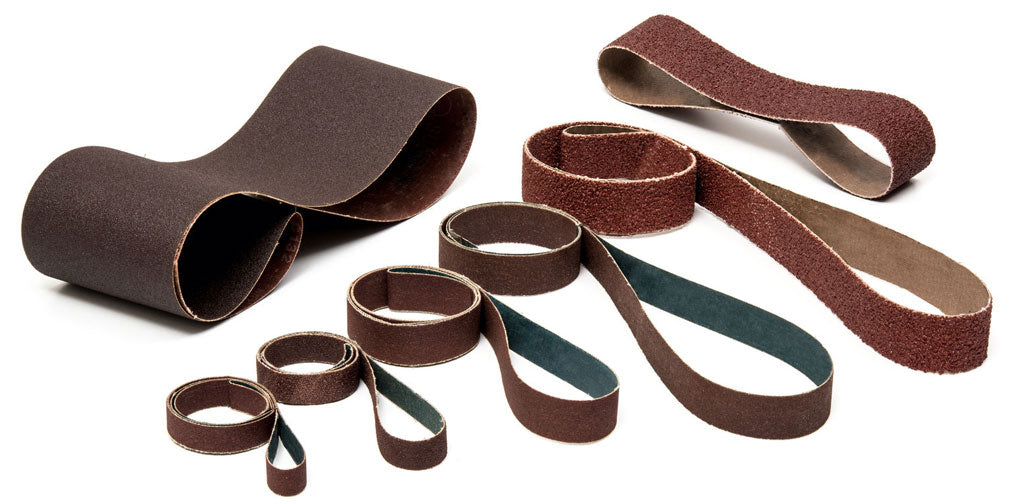 When talking about coated abrasive belts, the first thing you'll probably hear about is the abrasive formula – aluminum-oxide, ceramic-alumina, silicon-carbide, and zirconia-alumina. Today, we're going to talk about something equally important, the backing.
At Abrasive Industrial Supplies (AIS) we sell mostly cloth coated belts but did you know there are paper and polyester film backed belts too? We'll start with the cloth backed belts and finish up with some information on the other types.
Cloth Backed Belts are the most common in the industrial world because they have excellent durability, offer tear resistance and tolerate repetitive bending and flexing.
There are three common weights of cloth backed belts – J-Weight, X-Weight & Y-Weight (listed from most to least flexible). Both J and X weight belts have cotton cloth backs while Y weight is generally polyester or a poly/cotton blend. Let's take a look at each weight individually.
J-Weight (jean weight) belts are the most flexible of the cloth backed belts available from AIS. As the name implies, they are about the weight of your average jeans. These belts are used primarily for applications where heavy stock removal isn't necessary and where you want the belt surface to conform to the surface you are sanding, grinding or polishing. A perfect example is crankshaft polishing. With the various radii and curved surfaces that must be polished on a crankshaft, a highly flexible but durable belt is necessary and J-weight belts fit the bill perfectly.
X-Weight belts are stronger and stiffer than J-Weight belts. The cotton backing is a heavier weight cotton material. It is a good all-purpose/general purpose abrasive belt backing. Due to their durability X-Weight belts are ideal for production environments where long life and consistency are essential.
Y-Weight belts are considered heavy duty belts and are commonly used with coarse abrasive such as Zirconia-Alumina and Ceramic-Alumina and are used in heavy stock removal applications. As mentioned before, Y-Weight belts are usually 100% polyester but can sometimes be a polyester/cotton blend. Polyester is naturally waterproof, shock proof and tear resistant so it is ideal for wet applications.
Now that we've brought up the subject of water resistance, cotton backed belts are not naturally water resistant and shouldn't be used in wet applications unless they have been treated to be waterproof. Using a non-waterproof belt in a wet application will ruin both the belt and your project. Under wet conditions a non-waterproof backing will stretch and warp. AIS J-Weight and X-Weight belts are NOT waterproof.
You might also hear about Fiber Backed Abrasives. These are ultra-heavy duty paper backed abrasives made by "vulcanizing" multiple layers of paper using chemicals, heat and pressure. Fiber backed abrasives are generally used for discs.
Paper Backed abrasives are made with highly specialized paper that are made for abrasive use. Five weights of paper backing available (listed from most to least flexible) – A-Weight, C-Weight, D-Weight, E-Weight and F-Weight.
A-Weight is the lightest backing. It is generally for sheet goods used for hand sanding with grits of 80 and finer.
C-Weight is stronger and slightly less flexible than A-Weight. It is also used for sheet goods for hand sanding and small power sanders for intermediate grits (36 to 80).
D-Weight abrasives are stronger and less flexible than C-Weight and is also used for hand sanding and small power sanders with coarse to intermediate grits (24 to 80).
E-Weight abrasives are (no surprise) stronger and less flexible than D-Weight. This backing is generally used for belts, rolls and discs in applications where tear resistance is necessary.
F-Weight abrasives are the strongest, least flexible of the paper backed abrasives. This backing is generally used for sanding/grinding discs, sheet goods and sanding belts for floor sanding and wood working.
Lastly, we have Film/Latex Backed abrasives. These are usually used with fine grits (600 and up) and can be used wet or dry. AIS offers several standard sizes.
Well that's enough technical information one day, don't you think? We'll be adding new blog posts about other aspects of abrasive belts (abrasive grain and bond) in the near future so check back soon.
If you'd like to get these technical articles in your email inbox be sure to sign up to receive emails from Abrasive Industrial Supplies (AIS) today.